Why Franchise Khun Thai Tea?
Khun Thai Tea is one of the fastest growing franchise business in 2017 and has a history of authentic Thai Milk Tea recipe for over 50 years. Our tea are freshly brewed daily and we are the only few who does not use powder based mixed for the tea. With natural ingredients used and health benefits, Khun Thai Tea makes the difference to the Thai Milk Tea industry.
Which countries franchisee does Khun Thai Tea currently has?
We currently have franchisee in Philippines and in Singapore, and Indonesia.
We sincerely welcome you to join Khun Thai Tea and Develop the Franchise Business together.
If you are willing to become one of our partners, please fill in the Franchise Application Form and email it to Jeremy@khunthaitea.com.
The form can also be downloaded here http://khunthaitea.com/ktt-franchise-application-form/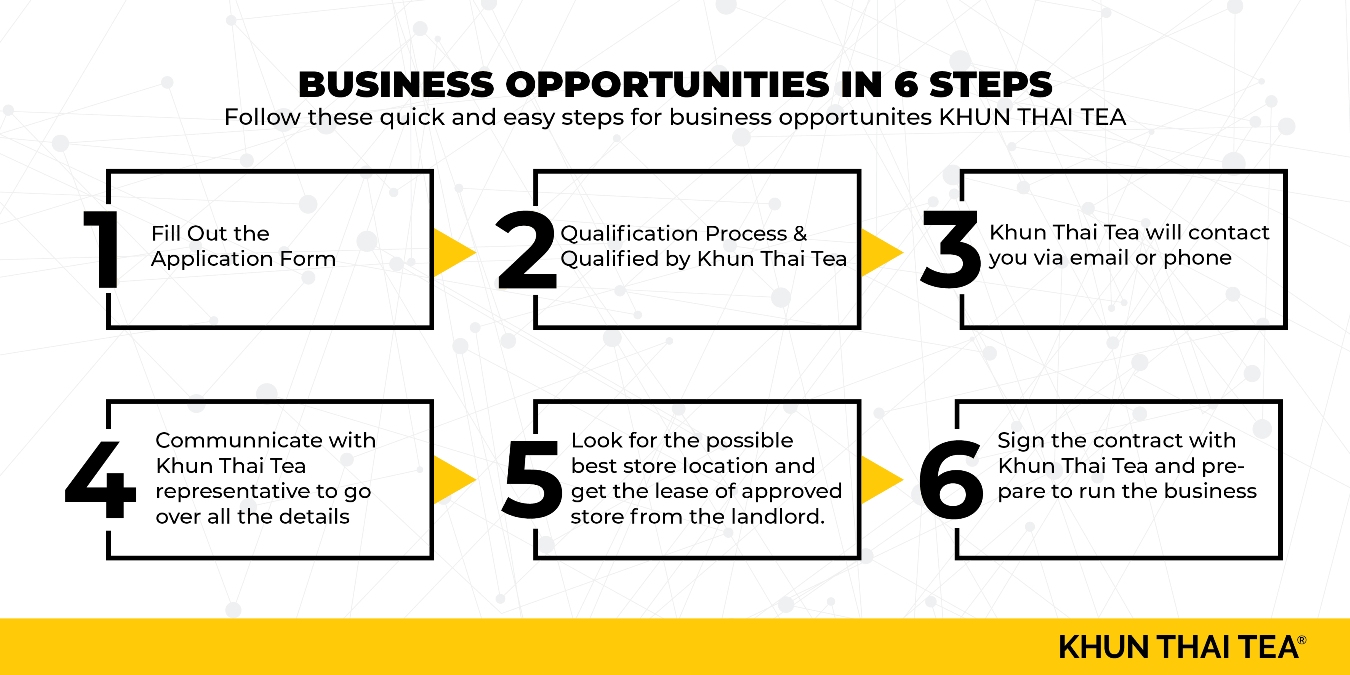 Frequently Asked Questions ?
When was Khun Thai Tea First Established?
Khun Thai Tea brand started in 2016 but the reciepe from Aunt Marlee came all the way back since 1955.
What is the start up cost for a new Khun Thai Tea Store?
Our start up cost depends on the country which you are located in and the types of franchise you wish to develop with us. The average range will be about USD$1,000 to USD$15,000 per store within South East Asia and between USD$15,000 to USD$70,000 per store in other regions.
Why is there such a big range in the franchise fee?
Depending on the geographic location our fees are up to a higher range and we do not increase the price on the size of the store. All stores regardless of the size will be of the standard price.
Is there a Marketing or Royalty Fee.
Yes there is a Marketing and Royalty fee, Depending on the package offered to you by your location, you might have a waiver of these fees but this will be based on the terms of the contract on your geographic location.
What does the franchise fee start up cost includes?
Our standard franchise package includes usages of the trademark brand name, onsite training for staff.
Where are training being held at?
Training are held within your onste store premises. Training will only be done 2 week before your almost ready to open store and training will be a period of 3 to 10 days depending on the number of staff attending per location. A trainer supervisor or employee from one of our other regional stores will be there to train your staff on all the procedures and tea brewery skills. All cost of the supervisor visit including International flights, Hotel Accomodation, Meals and daily allowance will be paid for by the franchisor or made payable to Khun Thai Tea GFP prior to the arrangement of the training.
Where can i get more information of the franchise business of Khun Thai Tea?
Please complete the apploication form and email to us and we will be in touch with you.
For Franchising enquiries, please email to us at love@khunthaitea.com