Why Franchise Khun Thai Tea?
Khun Thai Tea is one of the fastest growing franchise business in 2017 and has a history of authentic Thai Milk Tea recipe for over 60 years. Our tea are freshly brewed daily and we are the only few who does not use powder based mixed for the tea. With natural ingredients used and health benefits, Khun Thai Tea makes the difference to the Thai Milk Tea industry.
What is Special in Khun Thai Tea?
Besides the self produced thai tea leaves, Khun Thai Tea infuses its tea with grapes so that its has a fruity taste and fragrance which makes the tea taste better and high in vitamin C.
Which countries franchisee does Khun Thai Tea currently has?
We currently have franchisee in Philippines, Singapore and Indonesia.
We sincerely welcome you to join Khun Thai Tea and Develop the Franchise Business together.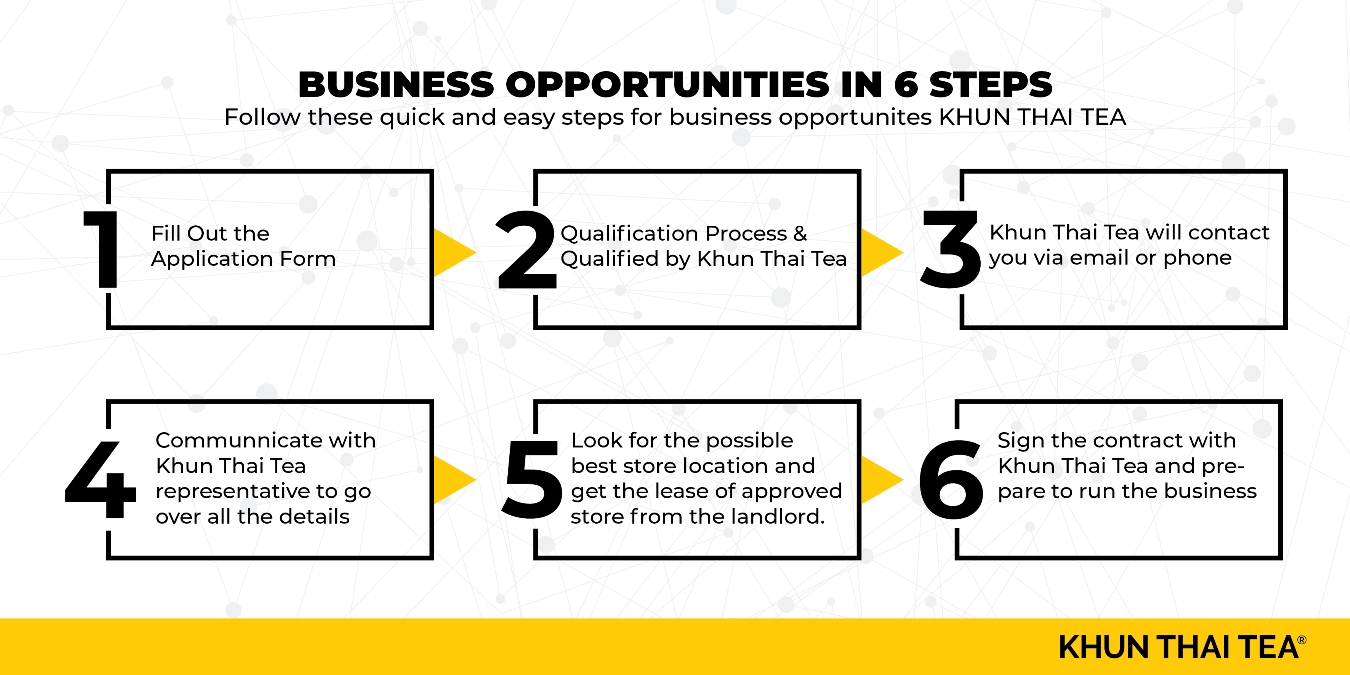 Frequently Asked Questions ?
When was Khun Thai Tea First Established?
Khun Thai Tea as a brand started in 2016 but its from a family recipe which started since 1955.
What is the start up cost for a new Khun Thai Tea Store?
Our franchise fees are highly affordable and competitive. Our rates of franchise in current countries are from USD$2,000.00 onwards. to USD $15,000.00
Why is there such a big range in the franchise fee?
For countries like the Philippines we go with the country average for our franchise fee is just USD $2,000.00 and new markets are as high as USD $15,000.00.
What are the rates for Master Franchise?
Depending on the country and area, the master franchise rates will be between USD $50,000 to USD $100,000.00 for a term of 10 years.
Is there a Marketing or Royalty Fee.
We collect Marketing Fee which is USD $300 monthly and a Royalty fee of USD $600 monthly.
What does the franchise fee start up cost includes?
This fee only includes the usage of the trademark brand name, on site training and 20% value in starter kit which includes the ingredients and uniform will be provided.
What is not included in the franchise cost?
Like many others, the start up franchise cost does not include the location rental, staff hire salary, renovation, equipments and supplies. All these are to be paid by the franchisee themselves.
Where are training being held at?
Once part of Khun Thai Tea, our trainer will be going down on site to your premises for training at no cost to you only except for travel and accomodation fees with a allownace fixed rate of USD $350.00
Where can i get more information of the franchise business of Khun Thai Tea?
Please complete the application form and email to us and we will be in touch with you.
For Franchising enquiries, please email to us at love@khunthaitea.com